Big Head BASH- 50% Sales on Toys
Posted by Spicy Horse on Aug 3, 2012 in News, Updates
Hello Bashers, we have quite a build up today. Lots of new features and fixes are in this build. But the one we are most excited to tell you is that you can finally play the game on facebook & spicyhorse site, along with the kongregate page.  Also we have a lots of updates we have been working on, we are very excited to know what you think of them.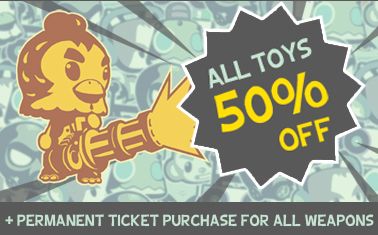 Here are the list of the numerous changes:
Daily Quest – Players can now earn tickets, experience and tokens by logging in daily and completing different quest.
Also, for those who complete all the quest, you'll earn a special weapons prize pack. Check it out now!
Big Sale and shop changes – All toys are now 50% off. We've heard your demands about weapon rentals: Weapons are now permanently purchased with tickets!
Item drops introduced:
New Ticket drop system – Now when you kill someone, they will drop tickets in the level. Grab them to increase your earnings.
New pickups in levels:
The team has also added new health packs and a Bash Pack to the level. We've added a 100% pick up as well as a 5% health pickup. Grab the Bash pack and your Bash Bar will automatically be full.
New In-game UI for Capture Point – Now the UI has 3 orbs that represent the flags on the level. Now players can know when a point is  captured in real time.
UTC time counter is back
Several bugs fixes:
Re-spawning in the wrong areas – fixed
Re-spawning and performing last movement input before dying – fixed
Menu Updates:
New Loading screens featuring the BHB Toy Store.
Enjoy the game and enjoy the sale.